GIVEAWAY: Take Back Your Health Conference
Two giveaways in one week sounds too good to be true…but it's not!
The Take Back Your Health Conference is a two day health conference that focuses on fitness, natural foods, green living, spirituality, and holistic health. It's taking place this weekend (October 3rd and 4th) in Arlington, and will feature expert speakers, cooking and gardening workshops, yoga classes, massage sessions, and health vendors. The conference gets better every year, and this year (the seventh event!) is no exception! That's why I'm thrilled to be able to offer you all the chance to win TWO tickets to attend the conference this weekend (a $398 value!). The tickets include full access to the conference events on Saturday and Sunday. Thank you to the conference organizers for sponsoring this wonderful opportunity!
The conference was founded by Robin Shirley, whose story of overcoming adversity is quite inspiring. At age 21, she was forced to drop out of college because she was unable to complete course requirements due to her disabling symptoms of Chronic Lyme Disease and Autoimmune Rheumatoid Arthritis. But, she didn't let that stop her. Instead, she enrolled in the Institute for Integrative Nutrition online to find a way to beat her illnesses and get back on her feet.
Changing her diet had a profound effect on her body, and it helped her overcome her physical and emotional symptoms and take back her health. Two years later, Robin launched the Take Back Your Health Conference to share what she learned and help others overcome chronic illnesses. Now, hundreds of health enthusiasts from across the DC area gather every year to embrace holistic, healthy living.
This year, the selection of featured speakers does not disappoint.
Joel Salatin, outspoken farmer at Polyface Farms in Swoope, Virginia will be explain the latest progress in the fight for food freedom. He tirelessly works to build a stronger local, sustainable, responsible food system, and he has invaluable insight on how farmers and consumers can make their voices heard.
Andrea Beaman, a natural foods chef and an expert in thyroid and adrenal health, will teach participants how proper nutrition can reverse disease.
Conference founder Robin Shirley, an integrative nutrition coach, will be sharing her personal story of childhood chronic illness and how others can overcome these types of illnesses.
Cindy Santa Ana, an integrative nutrition coach, will reveal how the toxins in our homes, clothes, and other household products are harming our bodies and the environment, and she will explain how to avoid these toxins to live a healthier life.
Autumn Frandsen, a naturopathic doctor at NIHA who specializes in cancer treatment, will teach participants positive nutrition and health strategies to prevent cancer.
Mike White, a breathing development specialist, will demonstrate how to build healthy lungs and fight disease through proper breathing techniques.
Along with these featured speakers, the other experts who will be present at the event will cover a variety of topics, including: how to prevent and reverse digestive disorders and chronic diseases like cancer, how to gain more energy, how to balance hormones naturally, how to detoxify your body, how to lose weight and build muscle, how to grow your own food, and how to incorporate superfoods, wild foods and traditional foods into your diet.
The experts will be hosting cooking demos, gardening workshops, meditation and yoga classes, and free massage and reflexology sessions. One of the cooking demos involves learning how to make probiotic sodas and fermented products! In addition, there will be two organic wine and green juice happy hours.
If that wasn't enough, the conference is also hosting a SNEAK PEEK premiere of a brand new food documentary, Revolution: Food, on Saturday, October 3rd from 4:30 pm – 8:30 pm. The world premiere of this film will be in Los Angeles next week, but DC is lucky enough to get a preview before then!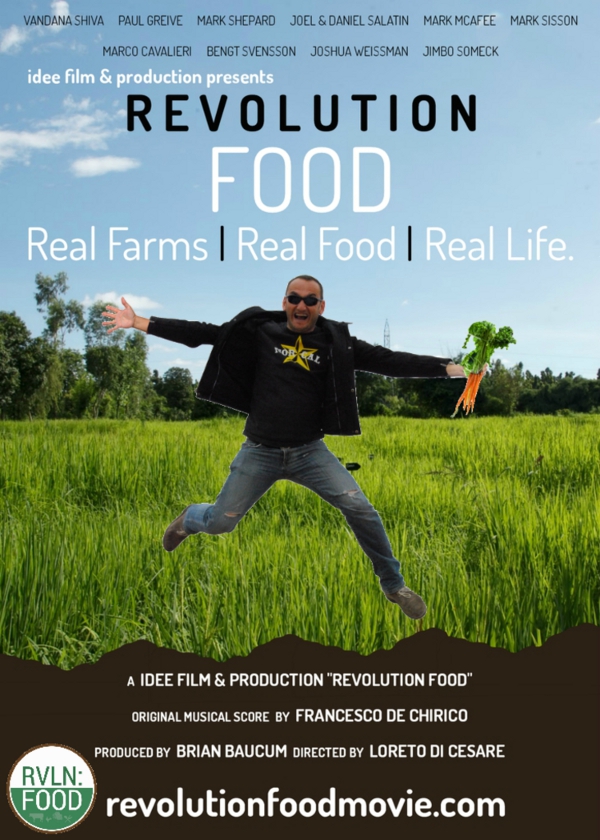 The documentary tells the story of grassroots changes to our food supply and the new food system taking root in the US. Filmmaker Loreto Di Cesare has teamed up with producer Brian Baucum to produce this tale of the food revolution, and they feature several prominent thinkers and influencers who are leading the movement, including Joel & Daniel Salatin of Polyface Farm, environmental activist Vandana Shiva and teen author and blogger Joshua Weissman (SlimPalate.com). Joshua will be at the screening as well to greet guests and sign copies of his new cookbook.
The meet-the-filmmakers reception begins at 4:30 pm with an edible tribute to the film by the hotel chef, featuring locally sourced ingredients. The screening begins at 6 pm and is followed by a panel discussion with the filmmakers. Tickets for this event are separate from conference admission ($8 for conference attendees, $15 for other guests), and can be purchased online.
Health enthusiasts, foodies, and fitness nuts will not want to miss any part of the Take Back Your Health weekend! Admission is $149 for a one-day pass and $199 for a two-day pass. They are available for purchase online.
Tickets include: admission to the exhibit hall, seminars, and workshops, a gift bag with healthy product samples, and access to both happy hours with complimentary hors d'oeurves, Kombucha samples, and a cash bar.
Here are the rules to enter to win the ticket GIVEAWAY, which includes TWO two-day passes:
Subscribe to Lani's Cup of Tea in the box on the sidebar. Be sure to CONFIRM your subscription (After you enter your email address in the sidebar, you will receive a follow-up email asking you to confirm your your request to subscribe. You must click on the link in the email to finalize your subscription request).
Leave a comment on this post stating why you would like to attend the Take Back Your Health Conference!
The giveaway will end on Thursday, September 30th, 2015 at 9 pm EST. The winner will be randomly selected. You must complete both requirements listed above in order to be eligible to win.
GOOD LUCK! 🙂
UPDATE 10/2/2015: This giveaway has ended and the randomly selected winner has been notified. Thank you to all who entered!
Take Back Your Health Conference

Arlington Capital View Renaissance Hotel

2800 South Potomac Avenue, Arlington, VA 22202

Saturday, October 3rd and Sunday, October 4th from 9:30 am – 5:30 pm

Tickets: $149/One-Day Pass, $199/Two-Day Pass